iPhone Technical Specifications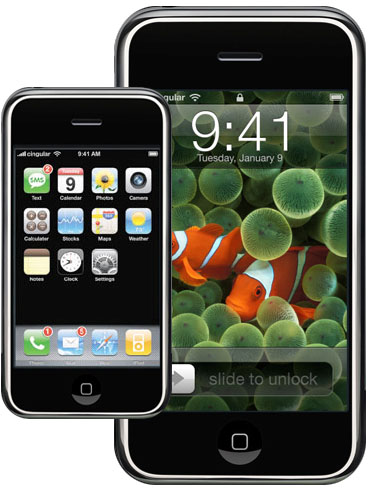 Screen size
Screen resolution
Input method
Operating system
Storage
GSM
Quad-band (MHz: 850, 900, 1800, 1900)
Wireless data
Wi-Fi (802.11b/g) + EDGE + Bluetooth 2.0
Camera
Battery
Up to 5 hours Talk / Video / Browsing
Up to 16 hours Audio playback
Dimensions
4.5 x 2.4 x 0.46 inches / 115 x 61 x 11.6mm
Weight
New Technics
Multi-touch

iPhone features the most revolutionary user interface since the mouse. It's an entirely new interface based on a large multi-touch display and innovative new software that lets you control everything using only your fingers. So you can glide through albums with Cover Flow, flip through photos and email them with a touch, or zoom in and out on a section of a web page — all by simply using iPhone's multi-touch display.

Intelligent Keyboard

iPhone's full QWERTY soft keyboard lets you easily send and receive SMS messages in multiple sessions. And the keyboard is predictive, so it prevents and corrects mistakes, making it easier and more efficient to use than the small plastic keyboards on many smartphones.

OS X

All the power and sophistication of the world's most advanced operating system — OS X — is now available on a small, handheld device that gives you access to true desktop-class applications and software, including rich HTML email, full-featured web browsing, and applications such as widgets, Safari, calendar, text messaging, Notes, and Address Book. iPhone is fully multi-tasking, so you can read a web page while downloading your email in the background. This software completely redefines what you can do with a mobile phone.

Wireless

iPhone uses quad-band GSM, the global standard for wireless communications. It also supports Cingular's EDGE network, 802.11b/g Wi-Fi, and Bluetooth 2.0 with EDR, which links to Apple's new, remarkably compact Bluetooth headset.

Built-in Advanced Sensors

iPhone's accelerometer detects when you rotate the device from portrait to landscape, then automatically changes the contents of the display, so you immediately see the entire width of a web page or a photo in its proper landscape aspect ratio. The proximity sensor detects when you lift iPhone to your ear and immediately turns off the display to save power and prevent inadvertent touches until iPhone is moved away. An ambient light sensor automatically adjusts the display's brightness to the appropriate level for the current ambient light, thereby enhancing the user experience and saving power at the same time.